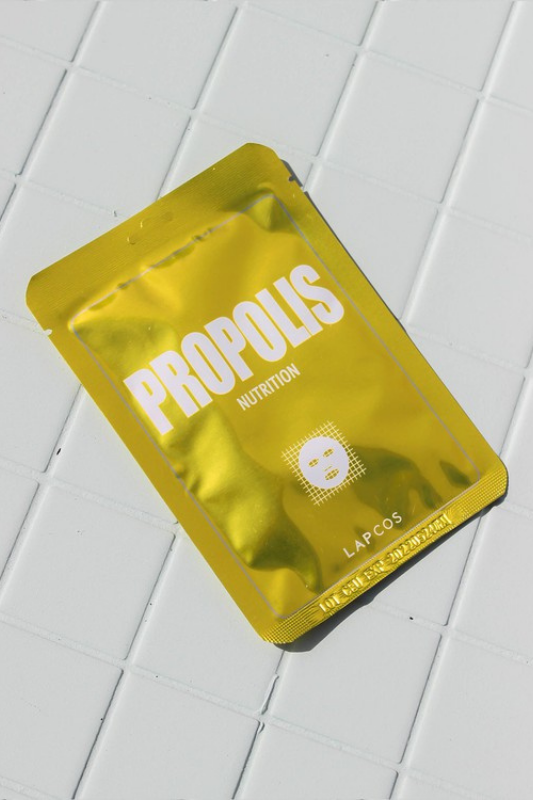 Propolis Facemask
$5.00
( / )
Unavailable
Sizing Chart
Please select all options.
A nutrient-rich TMF-cell sheet mask powered by Propolis Extract, Caffeine + Allantoin. This mask emulates the protection of nature's healing gifts.
Our propolis mask provides the defence your skin didn't even know it needed. Packed with antioxidants, the natural wonder helps to keep free radicals (i.e every day pollutants and sun exposure) from causing cellular damage and the signs of aging. In addition to its protective abilities, the essence also supports collagen production, renewing skin with a satin soft finish.
Ideal for these Concerns: Wrinkling, weakened skin barrier, damaged skin
Preferences: Cruelty-free, Alcohol-free
Benefits:
+ Soothes irritation, inflammation, and redness
+ Nourishes the skin so it can fight outside aggressors
+ Plumps and elasticizes to encourage firm, glowing skin
How to use:
1. Cleanse and tone your face. Unfold single use mask.
2. Leave on for 10-20 minutes.
3. Remove mask and gently pat face to absorb remaining essence into the skin.
4. Apply any remaining essence in the pouch to your neck and body.
Ingredients: Water, Butylene Glycol, Cetyl Ethylhexanoate, Propanediol, Cetearyl Alcohol, Glyceryl Stearate, Hydroxyacetophenone,Carbomer, Allantoin, Caffeine, Tromethamine, Caprylyl Glycol, Ethylhexylglycerin, 1,2-Hexanediol, Disodium EDTA,Fragrance(Parfum), Althaea Rosea Flower Extract, Honey Extract, Propolis Extract